Pearls of Juggling-the book
PEARLS OF JUGGLING by Anthony Trahair
A journey into the art of juggling for artists and fans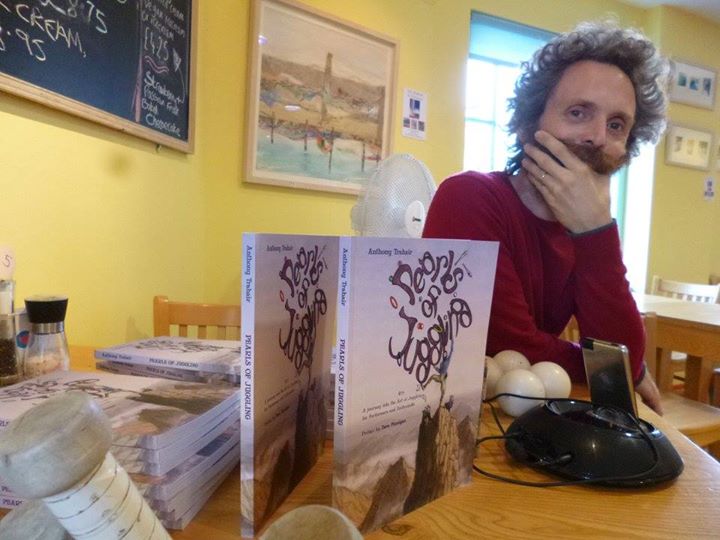 A book to inspire all jugglers – professionals and beginners, teachers, circus performers and onlookers who would like to take a look at this fascinating world.
Pearls of juggling is essential for those who want to know the basics of juggling, moving and having fun with juggling and build a personalized workout plan, reduce errors and conquer their own style to the original performances. The volume is also addressed to fans who want to have new insights to improve their art.
"Pearls of juggling" is the volume that completes my work and fills many blanks, delving into details that I had just mentioned. This is a book that should be read once to see the thread the entire string of pearls of wisdom of juggling, then take one by one according to the need to examine them, finding their place in the series. "
-From the foreword by Dave Finnigan,
Author of "The Complete Juggler" and "the Zen of Juggling"
After four years of research and reflection, twenty-one years of juggling, seventeen years of yoga, three years in the school of physical Theater Dimitri in Switzerland, Anthony Trahair has put his experience in this book of pearls of juggling!
Over 30 color illustrations to inspire your creativity, edited by students of the Scuola Internazionale di Comics in Rome.
Printed in Italy on 100% Cyclus recycled paper Print.
The book has been made possible by the generous support of more than 200 supporters. Thank you very much!!!!!!!!!!!!!!!!!!
https://www.produzionidalbasso.com/project/pearls-of-juggling-the-book/